In our previous newsletter of 23 October 2018 we suggested that the decline in wool prices was probably a correction of the  strong rise that wool prices had experienced over many weeks. We are still of this opinion and think that prices have now  stabilised.
In the current season, the peak price registered was on catalogue 3 at R253.82 as measured by the CWSA indicator. On the last auction of this calendar year the indicator measured R207.85, a decline of 18%. Over the last three auctions both in SA and in Australia, wool prices have moved sideways, which we think is a healthy sign. Compared with this time last year, the wool prices  are higher both in Australia and in SA.
In Australia, due to the crippling drought, their wool production is down by over 18% when compared with the same time last year. The SA wool production is down by 16% year on year, mainly due to the Lesotho clip which can no longer be marketed  here.
The wool and mohair situation in Lesotho is in a total shambles, and the producers are opposed to the new regulations. Certain  Chinese individuals have managed to "capture" the majority of the Lesotho wool and mohair clips.
Elsewhere, we are in the process of completing the order for Decathlon and the first two shipments have left. Some of you (our  growers) would have already been part of this contract and may have already been audited. We believe that this deal is a first in  the SA wool industry and we see this as the future.
We have also established "Abelusi" as a name under which the entire process of auditing, good farm practice, traceability, sustainability and from farm to retail garment can take place.

Wolprys in US Dollar (USD)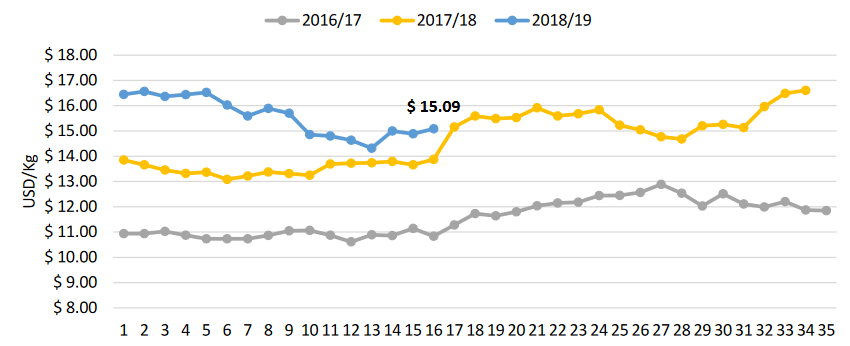 Top 10 Segard Masurel producers prices for the 2018/2019 season
| | | | | | | | | | | |
| --- | --- | --- | --- | --- | --- | --- | --- | --- | --- | --- |
| | Producer | District | Cat. | Descr. | Micron (µ) | Yeld (%) | Length (mm) | Strength (N/Ktex) | Greays price/kg | Buyer |
| 1 | Erika Erasmus Trust | Stutterheim | ZS02 | AAH | 16.8 | 75.16 | 87 | 45 | R 211.00 | Standard Wool |
| 2 | Erika Erasmus Trust | Stutterheim | ZS02 | BH | 16.3 | 74.49 | 68 | 50 | R 239.00 | Standard Wool |
| 3 | TI Van Kerken Bdy | Albany | ZS02 | AFFH | 17.0 | 72.14 | 82 | 53 | R 230.00 | Standard Wool |
| 4 | Hofman Boerdery | Dewertsdorp | ZS02 | BH | 16.3 | 69.62 | 70 | 41 | R 225.00 | Standard Wool |
| 5 | Hofman Boerdery | Dewertsdorp | ZS02 | BBH | 17.0 | 72.71 | 77 | 41 | R 223.00 | Standard Wool |
| 6 | RS Nel | Barkly East | ZS03 | AMH | 18.8 | 79.74 | 83 | 45 | R 217.00 | G Modiano |
| 7 | RJW Frost & Sons | Tarkastad | ZS05 | BFH | 17.7 | 73.57 | 79 | 44 | R 215.40 | G Modiano |
| 8 | Vosfontein Bdy | Victoria West | ZS05 | AH | 16.1 | 64.89 | 78 | 29 | R 213.10 | G Modiano |
| 9 | Hofman Boerdery | Dewetsdorp | ZS02 | AH | 17.4 | 72.64 | 84 | 40 | R 212.00 | Standard Wool |
| 10 | Schmidt & Seun Bk | Wodehouse | ZS02 | BMY | 17.4 | 68.87 | 77 | 45 | R 211.90 | Tianyu |